May 10th, 2023 - Today we congratulate Nina Pande, our Skills for Rhode Island's Future Affiliate Site Executive Director, for her accomplishments as a 2023 Business Women Awards program honoree.
Nina was chosen as an industry leader in the social services and nonprofit sector among the 28 total honorees selected by Providence Business News. The program annually celebrates women across business, government and nonprofit sectors making an impact in leadership roles.
"Nina has been willing to make big and bold decisions despite potentially facing obstacles behind the scenes. She has driven change and created economic mobility for the state's unemployed and underemployed," said Daniel Cervantes, Senior Vice President of National Expansion & Strategic Initiatives at Skills for America's Future.
Nina has been an integral part of the work Skills for Rhode Island's Future has accomplished since she helped found the site in 2016. She is driven by her desire to help improve economic mobility by creating more paths to sustainable careers.
"Her calling to serve and make an impact on her community, individuals, and the state, is evident in her work with Skills for Rhode Island's Future," said her colleagues.
In recognition of their achievements, Nina and the recipients will be honored on May 25th in a ceremony in downtown Providence. Nina represents the best that Skills has to offer in the way she serves her community. Thank you for your hard work and dedication Nina!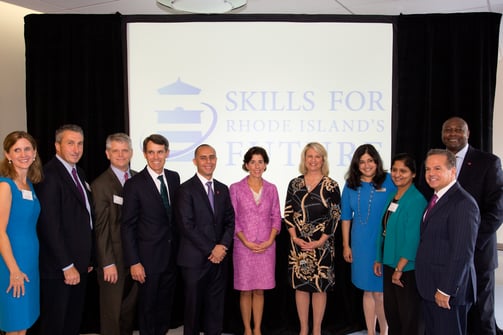 Nina (third from right, blue dress) pictured at the Skills For Rhode Island's Future launch in 2016.