The Company
One of the largest employers in the U.S., Amazon is committed to investing in local communities through quality jobs that feature competitive pay and benefits and generate career pathways for associates at all levels. This drive matches the Skills mission to reduce barriers to employment and increase economic opportunity for Chicagoland's historically underinvested communities.

The Amazon Career Choice program is "designed to upskill" employees interested in pursuing future endeavors outside of the company. The program delivers "training in high-demand career paths," including tuition assistance, career development courses, IT support technician roles, and 50% off certification exams.


The Partnership
We began working with Amazon in the spring of 2021, supporting their new facility at University Park. From the beginning, Skills leveraged its network of community based organizations (CBO) to connect Amazon with Warehouse Associate candidates in the Southland.

Since then, our partnership has grown to include recruitment marketing and community outreach to help fill Warehouse Associate and Workforce Staffing roles across Chicago and the suburbs.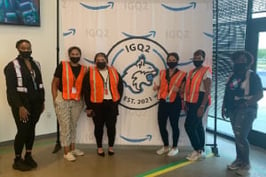 Community
In the summer of 2021, we grew our partnership to support the launches of Amazon's new fulfillment centers in Markham and Matteson, in South Suburban Cook County. The sites opened in October, but the Skills team was hard at work since August to promote opportunities in the area to community partners and job seekers.

Partnership goals included: intentional community engagement and hiring; brand awareness regarding Amazon's commitment to local communities; and informing organizations of Amazon's upcoming launches, upskilling, and how job seekers could access these opportunities.

The Skills team developed a group of 10 core CBO's for this initiative: Chicago Southland Development Corp, OAI, Village of Markham, Village of Matteson, SDA, Governors State University, Ford Height Community Services, Metropolitan Family Services (Blue Island), Southland Human Services Leadership Council and Moraine Valley College.


Collaboration
To optimize our partnership, we created six distinct workstreams bringing together respective groups from Skills and Amazon. This helped coordinate efforts and streamline communications within each organization and across departments. Groups worked as independent units or in collaborative networks as needed to support community presentation, hiring fairs, recruiting, and content marketing.

Every two weeks, all stakeholders came together for a partnership call, where recent initiatives and metrics were presented, and future plans were discussed and mapped out.

We also strengthened our relationship management, increasing opportunities for Amazon to engage directly with our core CBO's, reaffirming their commitment to neighborhoods, and increasing awareness of Amazon's benefits to partners and job seekers.


Growth
Markham and Matteson facility launches each included five Skills-led outreach events from August to October for a total of 10 partner and job seeker events.
Building on our community outreach, our partnership also included robust email, web, event, search, and social media marketing promoting Amazon's Warehouse and Workforce Staffing roles.
Skills identified two members of our recruiting team to support Amazon's staffing efforts. These representatives attended five community hiring events on behalf of Amazon and screened candidates for their Workforce Staffing team.
By December 2021, our partnership has grown to include support for Amazon facilities in Chicago and Channahon.


Looking Ahead

Download the case study here.